A large portion of people in the world have sleeping problems. The common cure to the problem now are addictive sleeping aides that cause plenty of side effects.
A new company named Blake Insomnia Therapeutics (OTCQB:BKIT) is headed towards a Phase 2 study for a sleep therapy that doesn't have the addictive side effects.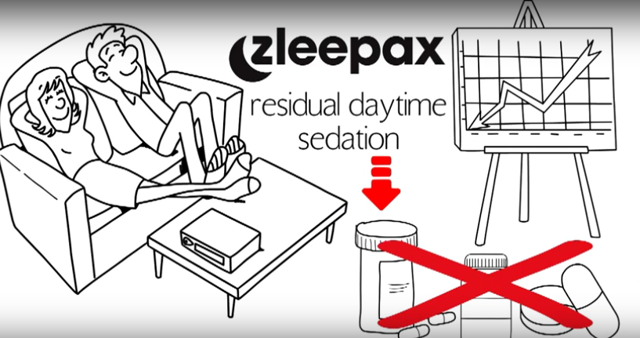 Insomnia Affects A Large Population
According to the Mayo Clinic, insomnia is a common sleep disorder that can make it difficult to fall asleep. Most adults experience short-term (acute) insomnia which lasts up for weeks. Other people have long-term (chronic) insomnia that lasts for months and possible years.
The National Sleep Foundation lists a whole host of behavioral and environmental scenarios that lead to insomnia symptoms. From a lack of exercising to bad eating habits to too much caffeine, people contribute to the problem. Solving the problem is a whole different problem.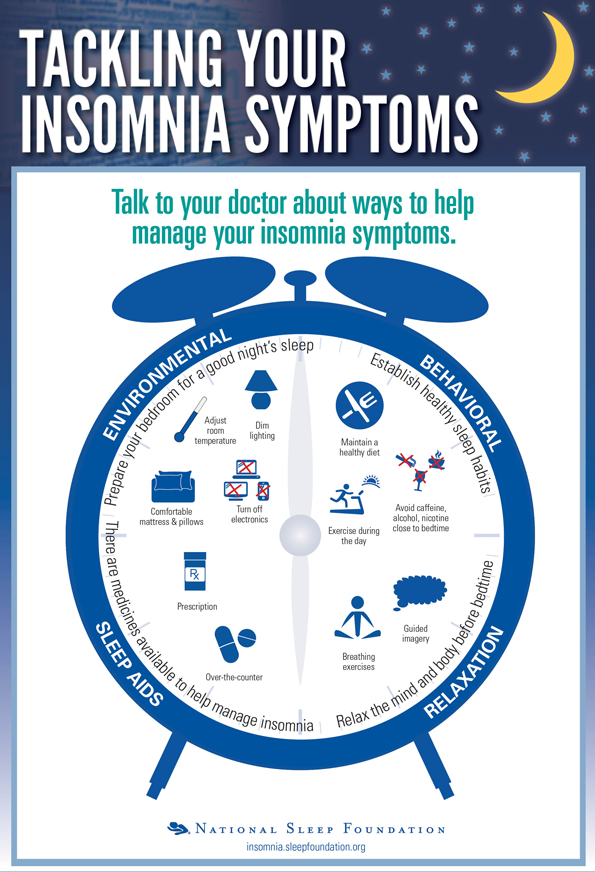 The problem is that the market has limited sleep aids to help people simply solve sleeping problems if the listed behavioral and environmental changes don't solve the problem.
The end result is that the Sleep Education organization reports that up to 35% of the adult population complain of insomnia. About 10% of the population has chronic insomnia that lasts for at least three months. Another previous study by the National Sleep Foundation showed that 67% of women frequently experience a sleep problem.
As the National Sleep Foundation suggests, consumers with acute insomnia try the over-the-counter sleep aids. These can help solve short term sleeping problems due a work or school related schedule change. The sleep aids though aren't intended for long term use and aren't a comprehensive fix for insomnia. In fact, WebMD lists the common sleep aid as diphenhydramine that may not be safe for people with glaucoma, heart disease, or lung disease.
For prescription sleeping aides, Lunesta from privately-held Sunovion Pharma and Ambien from Sanofi (NYSE:SNY) dominated the market though with concerns of side effects. The drugs regularly cause daytime sedation issues and potential effects on mental functioning that impacts work productivity. New generics and the entrant of Belsomra from Merck (NYSE:MRK) are taking share in the market.
Zleepax
Enter Zleepax into the picture from Blake Insomnia. The sleep aid proposes using beta blockers that diminishes the side effects of traditional sleep aids. In essence, Zleepax acts by diminishing the physical symptoms of stress versus the common hypnotic aids that focus on forcing people to sleep by depressing the central nervous system.
Original beta blockers inhibited natural melatonin having a negative impact on sleep. Recent studies show that third-generation beta blockers actually improved quality of sleep for patients with mild hypertension. The company proposes using these third-generation beta blockers such as Nebivolol for the treatment of stress-related insomnia without the typically side-effect profile of current insomnia prescription drugs. The end result is that patients get a better night's sleep with fewer side effects.
Blake Insomnia has a pending patent based on research started back in 2007 covering the use of beta blockers such as Nebivolol alone or in combination with other anti-insomnia drugs.
The CEO filed a patent application for the Zleepax compound under EP20080758258. The patent covers the use of a composition comprising at least one beta-blocker for the treatment of sleep disorders as has since been transferred to Zleepax.
The company is ready for Phase 2 studies since the ZLX-1 formulation works via pharmaceutical compounds that has safety and efficacy are already documented in clinical trials. The goal is to start Phase 2 studies in 2017 with less than $10 million needed to fund this phase of clinical trials.
The Company
Blake Insomnia Therapeutics was formed in exchange for the assignment of the patent-pending compound Zleepax from CEO Birger Jan Olsen for 18 million shares. The founder and CEO now owns the majority of the shares. The company has the following schedule and plan for developing Zleepax.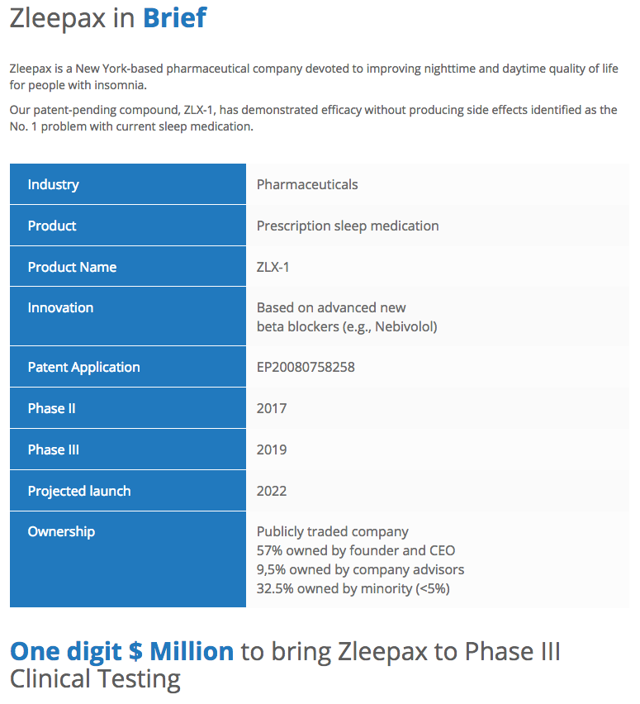 Source: Blake Insomnia
Morten Albrechtsen has been brought on as a clinical advisor and owns a position in the company. Mr. Albrechtsen has a long history with pharma startups having founded ENKAM Pharma back in 2001. The advisor has extensive experience with pharma-related startups, but held several executive positions at larger pharmas including Nycomed that was bought by Takeda Pharmaceutical (OTCPK:TKPHF).
Large Market Opportunity
Drugs like Ambien and Lunesta grew the insomnia drug market to sales of $2.1 billion before the recent launch of generics. GlobalData predicts the insomnia market will rebound to drug sales of $1.8 billion by 2023 with the market growing as more patients are classified with the sleep disorder.
Lunesta had peak sales of $618 million back in 2013 with the current forecast for Belsomra becoming the market leader by 2023. To meet this huge market opportunity, the company admittedly needs funding or some form of partnership to begin Phase 2 clinical trials. The ability to obtain funding will signal to potential investors that institutional investors doing due diligence see huge potential in Zleepax.
The GlobalData prediction that the insomnia drug from Merck will surpass sales from Ambien and Lunesta could lead Sanofi and Sunovion Pharma to pursue a partnership with Blake Insomnia on any positive Phase 2 results. Investing in the small biotech on that theory though is risky, but large pharmas typically look for new drug candidates to bolster declining market shares.
Takeaway
The key investor takeaway is that Blake Insomnia Therapeutics trades at a low stock price due to being relatively unknown. The market opportunity in replacing addictive sleeping aides is large. The low market valuation of nearly $40 million provides significant upside for investors on positive clinical results.
Additional disclosure: The information contained herein is for informational purposes only. Nothing in this article should be taken as a solicitation to purchase or sell securities. Before buying or selling any stock you should do your own research and reach your own conclusion or consult a financial advisor. Investing includes risks, including loss of principal.
---